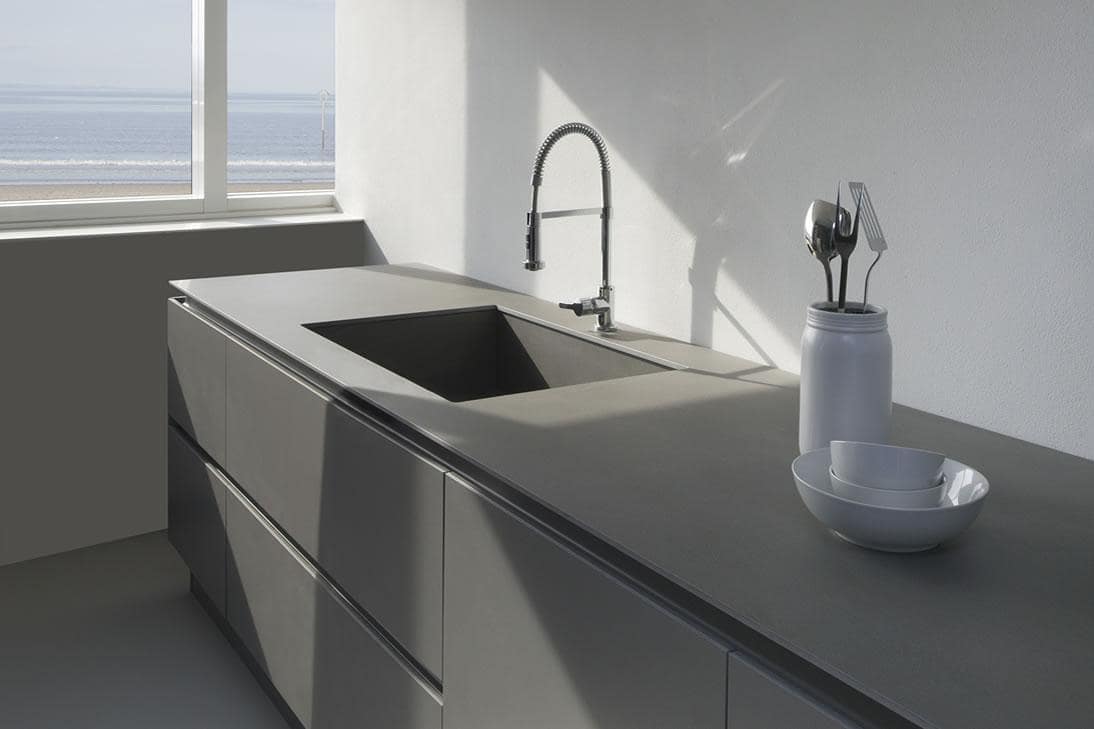 February 19, 2020
Your Guide to Choosing Porcelain Benchtops in The Kitchen
What are porcelain benchtops?
Porcelain is a popular choice of material for kitchen surfaces that is increasingly preferred to quartz-based surfaces. Discerning homeowners, developers, renovators and builders alike are attracted to the additional benefits and flexibility that come with porcelain benchtops.
Porcelain benchtops are made from powdered clay and coloured pigments which are bonded together at extremely high temperatures and pressure. The process results in high-density, low-porosity ceramic slabs which can be formed with various surface textures. Designs can be printed onto the surface to create the particular look required, such as concrete, marble or others.
A versatile solution for all your benchtop needs
Porcelain benchtops are great for both indoor and outdoor uses, such as:
Food preparation surfaces – porcelain's low porosity makes it highly resistant to foods and liquids absorbing into the surface, and its hardness makes it highly resistant to scratches and abrasions.
Gas cooktops and ovens – porcelain is highly resistant to heat and fire, which makes it a great, durable choice for benchtop and splashback areas adjacent to gas cooktops and ovens.
UV resistant – porcelain's high UV-resistance means it won't fade in direct sunlight, making it a great solution for high-sun areas including outdoor kitchens and barbecue areas.
Larger slabs – porcelain slabs come in larger sizes than quartz-based slabs, making them a great choice for large and long benchtops, including island benches of up to 3.2m x 1.6m.
Surface cladding – porcelain can be supplied in thinner, lighter panels to match or complement your benchtops. These panels are great for multiple situations, such as feature walls, cabinet doors, drawer fronts, and splashbacks.
Choosing the right benchtops for your home or project is a big decision, so expert advice is important in making sure you fully understand both the advantages and possible drawbacks of porcelain benchtops. The factors to consider include:
Price – porcelain benchtops are a premium product, and are often priced as such.
Weight – porcelain is a relatively light weight option in comparison to stone. Because of this, it is suitable for a various types of application.
Repairs – porcelain provides a super-hard but brittle surface. This is important to keep in mind when using heavy tools or utensils.
Bravvo's porcelain experts will advise you on these and other considerations, assess your requirements and provide professional, objective recommendations for your benchtop needs.  Contact Us Today for more information on our range of porcelain benchtops.